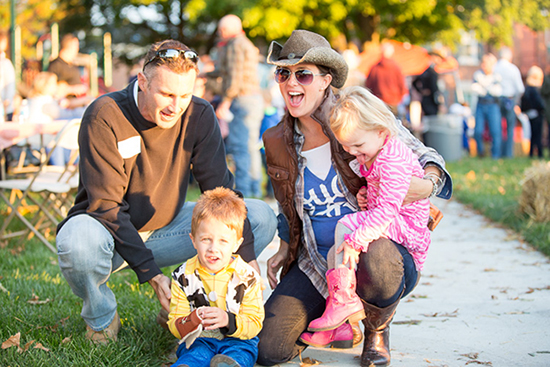 Big thanks to everyone who came to Variety's 1st Annual Hoedown!
What do you get when two friends and their families come together for fun? The first annual City Slicker Hoedown! They event was the idea of Danny O'Neill and Nathaniel Hagedorn…and their lovely wives. To create a family friendly event while doing good for the community in need.
They were kind enough to choose Variety KC as one of those recipients. Along with generous sponsor, supporters and friends…these wonderful people raised over $50,000 to help Variety kids in need of Mobility and Inclusion.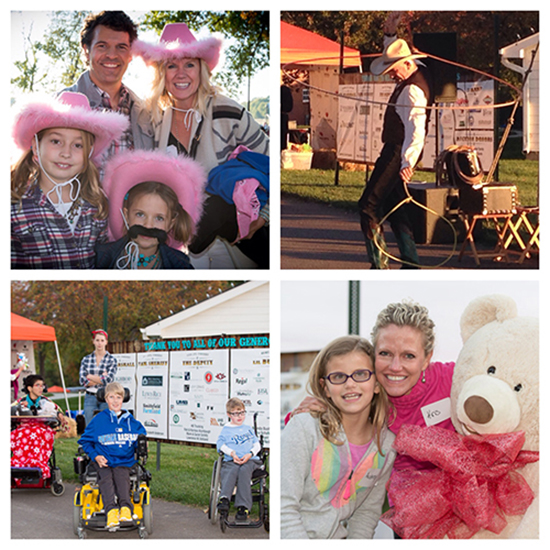 Music, Entertainment and a fun auction were just a few of the highlights.
Nathaniel and Sarah Hagedorn wanted to surprise Variety child Audrey with her DREAM come TRUE. An adaptive, tandem bike that she could enjoy with her family. Audrey is a sweet and vivacious 10 year old little girl who is sight impaired. She lives life with barely 10% vision. For visually impaired children it is virtually impossible to get exercise, therefor this bike is a great way for her to stay in shape while being active with Mom and Dad. Audrey has expressed doing triathlons and this would fill the missing piece of the puzzle. She also wants the opportunity to ride with her friends and be social. The Hagedorn's surprised her with a giant picture of the tandem bike they gifted her. There were tears all around, especial with Aurdey's mother who was overcome with appreciation and emotion.
Thank you for these families for believing in inclusion, Variety kids and being an example for all of KC.
To see more pictures of the Hoedown, check out our video!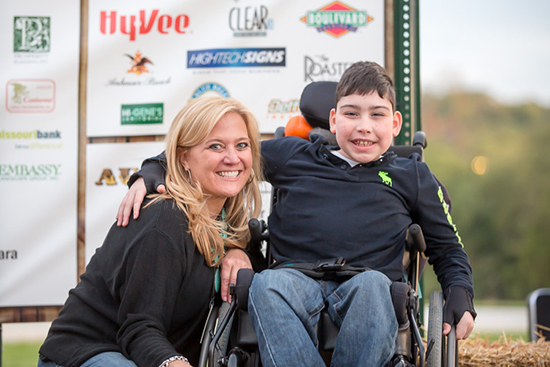 For over 80 years Variety KC has been providing local children with special needs the adaptive equipment and opportunities necessary for activity and inclusion.
• Wheelchairs
• Communication devices
• Van ramps
• Adaptive bikes
• Adaptive playgrounds
• Hearing aids
• Prosthetic limbs
• Walkers and more.
Whether you are a past United Way contributor or new to the process, it is quick and easy to allocate your United Way giving to Variety KC kids.
Simply Specify:
Variety of Greater Kansas City
P.O. Box 3446
Shawnee, KS 66203
Tax Id: #23-7431670
Double the impact of your gift by checking with your employer about a matching gift program.
Your gift will directly impact Kansas City kids with special needs that need your help the most.

Mike Birbiglia
Over the past 14 years comedian Mike Birbiglia has developed a one-of-a-kind storytelling style in the world of standup comedy. Time Magazine calls him "master of the personal, embarrassing tale," and The New York Times describes him as a "supremely enjoyable monologist." Birbiglia's off-Broadway hit, My Girlfriend's Boyfriend, won the Lucille Lortel Award for Outstanding Solo Show and was named a Critics Pick by The New York Times, New York Magazine, and Time Out New York. Following a successful New York run, Mike brought the show to more than 70 cities worldwide, including the Sydney Opera House, London's Soho Theatre, and Carnegie Hall. Filmed in Seattle and premiering on Netflix, My Girlfriend's Boyfriend was selected as the best stand-up special of 2013 by Vulture, Paste Magazine, The Laugh Button, and Laughspin. Flavorwire listed the special as one of the top 20 funniest stand-up specials of all time, and it was nominated for Best Comedy Special at the 2014 American Comedy Awards. Mike has made more than 40 network television appearances on shows including Letterman, Kimmel, Conan, Craig Ferguson, and Jimmy Fallon. He is a regular contributor to the Peabody Award winning radio show This American Life. Birbiglia has released four albums, and both The Onion and USA Today named My Secret Public Journal Live one of "The Best Comedy Albums of the Decade." In 2012 Mike directed and starred in the feature film adaptation of his one-man show Sleepwalk With Me. The film won an audience award at the Sundance Film Festival, was released in theaters nationwide by IFC Films and was one of the top 3 most critically acclaimed comedies of the year on Rotten Tomatoes, with top critics rating it 87%. Currently Birbiglia is touring the United States with his all-new show, Thank God For Jokes, and planning a follow-up feature film.
You can check Birbiglia out in the box office hit, The Fault in Our Stars, and he has also landed a reoccurring role in season three of Orange is the New Black.