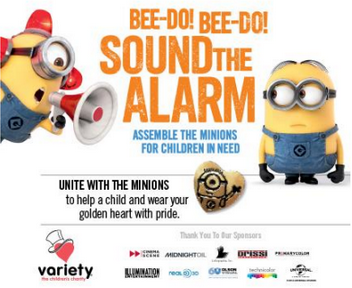 Universal Pictures and Illumination Entertainment have collaborated with Variety – the Children's Charity to create limited-edition pins featuring Illumination's beloved Minions for Variety's 25th annual Gold Heart Pin Campaign. Proceeds will benefit Variety programs that serve children who are disabled and disadvantaged.
The collector's item will be available for a minimum donation of $3.00 in movie theaters and select retail outlets nationwide from November 2014 – August 2015, including Cinemark and B&B Theaters. A full list of participating locations can be found on www.usvariety.org.
Since 1991, the Gold Heart Pin Campaign has been Variety's signature fundraising endeavor. Variety works with one major motion picture studio every year, including Twentieth Century Fox, Walt Disney Studios Motion Pictures, Sony, Paramount, Warner Bros. and Universal Pictures to design a pin based on a film or character, including universally recognized characters Mickey Mouse, Kermit the Frog, E.T., Spider-Man, Shrek, Yogi Bear, Yoda, Darth Vader, R2-D2, C-3PO and now, the Minions. Through this partnership, the Gold Heart Campaign has raised millions of dollars to help children in need.
© & ™ 2014 Universal Studios. All Rights Reserved.