KC STAR
Kansas lawmakers will consider a bill during this legislative session that would provide a tax-free avenue for families with disabled children to save for future expenses.
Kansas State Treasurer Ron Estes and Rep. Erin Davis (R-Olathe) introduced proposed legislation on Thursday to create the Kansas Achieving a Better Life Experience (ABLE) Savings Program.
The program would allow families to make tax-free contributions to a savings account that could be used for future expenses, such as those related to education, health, housing or transportation.
The plan would be set up similar to the state's Learning Quest 529 program, which helps families save for the higher education costs of their children.
Under the proposal, $14,000 a year could be contributed to an ABLE account.
Individuals whose disability occurred before age 26 would be able to qualify for the program as long as they have met Social Security disability standards or have a disability certification.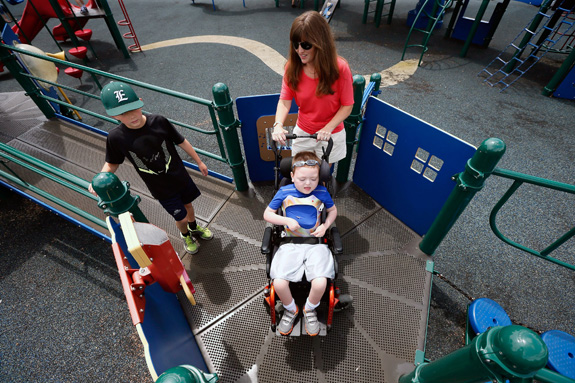 By AIMEE BLANCHETTE, MINNEAPOLIS STAR TRIBUNE/MC Originally posted in the Disability Scoop
Four-year-old Lucas Dean has to have three things when he goes to the playground: long pants, Mickey Mouse gardening gloves and lots of energy. He needs them to crawl through the rough wood chips to reach the slides, stairs and swings. Lucas, who was born with spina bifida, moves swiftly in his purple wheelchair. But he can explore the playground near his suburban Minneapolis home only on his hands and knees.
"There are all kinds of things for kids in wheelchairs around here, but the playground isn't one of them," said Lucas' dad, Jay Dean. "I want to get involved and change that."
Admittedly, playgrounds have been adding accessible features for decades. But a lagging economy has put many local governments and park boards in survival mode. Special swings and adaptive rides are expensive, and ramps and smooth surfacing can add thousands of dollars to a budget.
Because of the costs, inclusive playground projects often end up being a collaborative effort among families, communities, schools and cities.
"An inclusive playground is on our dream list, but it always comes down to money," said Shannon Young, recreation supervisor for South St. Paul, Minn. "If there was a group of people who had the mind-set to push forward and fundraise for it, we would welcome that."
Already, at least a dozen playgrounds with several inclusive features are in various stages of development in the Twin Cities area alone.
Wood chips and rocks are being replaced by wheel-friendly rubber surfaces. Giant spinners offer balance stimulation and interactive play. There are quiet places where kids who are easily overstimulated can hide out, and roller slides and sensory gardens for kids with sensory disorders.
Sometimes it's not a parent with a child with a disability who's drumming up support, but rather someone in the community, such as Peggy Halvorson, who believes inclusive playgrounds "are just the right thing to do."
"I don't have a child or grandchild with a disability," said Halvorson, an activist who worked with the advocacy group People for Parks to build the first universally accessible playground in Minneapolis, scheduled to open this summer. "It was an unmet need in our community. … I want my grandchildren to grow up learning to look at their peers' abilities and not being fearful of someone who is different from them."
Federal law requires that play areas be accessible. That means if a city builds or renovates a playground, it must meet certain standards under the Americans With Disabilities Act.
"The issue, though, has been that the guidelines really only address physical accessibility," said John McConkey, markets insights manager for Landscape Structures.
ADA guidelines for playgrounds don't address a broader range of diagnoses and disabilities, such as autism and sensory processing disorders. To be truly inclusive, McConkey said, a playground needs to be fun, functional, stimulating and interactive for everyone — from children with disabilities to their siblings, parents and grandparents.
In the past five years, the playground equipment company has hosted focus groups with parents of children with special needs to find out what makes for a positive playground experience.
"We were shocked to learn that these parents didn't take their kids to the playground at all," McConkey said. "Playgrounds were not designed to support their kids' needs. There was a huge gap in playground design."
Suzanne Sullivan lives across the street from a park in Edina, Minn. but doesn't use the playground because she can't wheel her 8-year-old son Dermot's wheelchair through the wood chips. Although the playground is ADA-compliant, "it certainly isn't inclusive," she said. "I'm so sick of sitting on the bench watching my other kids play while Dermot just sits there with me."
Sullivan found a playground with a wheelchair-friendly rubber surface this spring and has been driving her three sons there to play. She also contacted the city of Edina to inquire about replacing the playground across the street from her home. The city encouraged her to raise money for such a project, so she created a fund through the Edina Community Foundation and is now in the early stages of fundraising.
After Dana and Dave Millington's daughter Madison died of complications from spinal muscular atrophy, the Woodbury, Minn., couple decided to start a foundation to raise money to help families in similar situations.
Building an inclusive play space became the foundation's focus, because going to the playground is an activity every kid should enjoy, Dana Millington said. "The option was to either leave her alone on the side or go help my 2- and 4-year-olds, or let them roam by themselves and stay with her," she said. "My older two kids couldn't establish those memories with her … that most siblings and families get to build."
Through the Madison Claire Foundation, the Millington family has spent the past six years planning a playground and raising funds. The foundation is raising money through corporate sponsorships, "American Idol" finale parties, a Roaring '20s gala at an area historic mansion, golf tournaments and other events.
The foundation has raised $831,000, half of the money for the project and hopes to raise more through other means to allow the playground to break ground soon.
Though expensive, there is no price tag for providing kids with play areas where they can grow up together, Page Laska said.
Laska, who lives in Woodbury, said an inclusive playground would give her 9-year-old son Ben independence. Ben, who has spinal muscular atrophy and uses a wheelchair, is missing out on crucial bonding time with his buddies. "This is so important, and it's so important right now," she said. "I know we're going to get Madison's Place, but we all want that someday to be today."

By Jill F. Bamber, CTVI, MEd, MOM
Let me introduce myself. I'm that lucky mom who gets to use those convenient parking spots right in front; you know, the ones that are often empty and right by the door. But you see, parking there is more than convenience for me. I have a son who is disabled.
That spot puts us close enough to the door that my son can use his walker and walk in under his own power (independence is important, you know, and his favorite line is "I'll do it on my own, Mom."). Other days, we do need to use his wheelchair. Then distance isn't as important, but extra space is needed. You see, my son's muscles are spastic and get very tight. He doesn't bend easily so in order to get him in and out of the car, the door has to be open all the way, whether he's walking or riding. This is a huge part of the reason that there is that extra "dead" space between disabled parking spots. That extra space is really needed and besides, they aren't quite as wide as a parking space. When you sneak into that spot for a quick pick-up, you are actually preventing the use of the two disabled spaces on either side; it's as if you've parked in 3 parking spaces.
You are right; it is incredibly convenient to park up front. I can see my other child walk all the way to his coach without going far from my car. But then again, it's more than convenience to me. If I have to go in with my other child or park elsewhere (I have to go way far away from other cars, remember, my doors have to open up all the way), I have a choice to make… am I going to unload equipment, unfold it all, and snap it together only to do all this in reverse when I return just a few minutes later, or am I going to bite the bullet and just carry my son in. Have you ever bought the economy-sized bag of dog food at Sam's Club? It is 37.5 pounds of dead weight. It doesn't help you carry it; it can't wrap its legs around you and hold on. Well, my son is 55 pounds and growing every day. You would probably frown upon me if I slung him over my shoulder like a bag of dog food, but he too is dead weight and a large load to carry on my mommy frame. I'd carry him to the ends of the earth if I had to, but, frankly, I'd rather not.
My son would give anything to be out there playing with his siblings, his friends, and your child. Due to his disabilities, that will never happen. He loves to cheer from and follow along the sidelines. He dreams of the day that he can cross that white line and join the game. Every game he asks, "Today, can I play with my friends, too?" I would give anything to say yes, suit him up, and yell, "Hey, Coach, he's going in!" I would give anything, including those special tags and that up front parking space. You see, it's more than convenience to me.