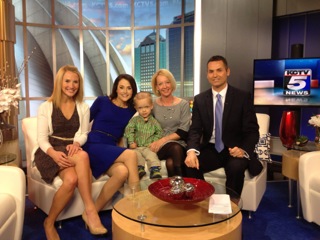 Variety, the Children's Charity of Kansas City (Tent 8), nominates KCTV5 for the media award.
The local CBS television affiliate, KCTV5, has a long history of being a media leader in the Kansas City community and surrounding region.  Like other major media outlets, KCTV5 is constantly asked for their coverage and partnership in events and fundraisers. Serving a population of over 2,000,000 viewers, it is easy to understand how the on-air personalities become highly recognizable and have a large circle of influence.
As a result, the station is very careful about the partnerships and events they lend their name to. Variety Tent 8 is honored to continually be one of the selected partners.
KCTV5 has supported Tent 8 in a number of ways, and the support is continually increasing:
1. Popular news anchors, Dave and Alexis, will once again emcee the annual Variety Show (our largest source of funding, netting $300,000 – a one hundred percent increase over the previous year, in which they were not involved). Ticket sales more than doubled as a result of their exposure.
2. Their on air personalities star in and produce a set of commercials promoting ticket sales and general awareness of Variety Tent 8.
3.  Advertisers on KCTV5 have partnered to support Variety through their own events and in their own advertising.  For example, Gary Crossley Ford hosted a breakfast with Santa and gift wrapping fundraiser at their own showroom – a month long campaign.
4. This year KCTV5 has made a larger commitment to local charities, including Variety, through a campaign called "Take 5 To Care."  These are not public service announcements (we receive those as well) but a series of sponsored commercials – in Prime TV shows and times, at no cost to the charity. (Value this year to Variety is over $100,000.)
5.  KCTV5 is the most frequent and consistent news outlet covering Tent 8's ground-breakings, events, presentations and news stories.
The role of the media, especially big media, plays a key part in both the awareness of Variety's mission – and the top of mind exposure that helps in securing sponsorships, donors and volunteers.
KCTV5 is the "THE" news station in Kansas City.  To us, they have proven that action is not just something they talk about – it is how they operate and serve.