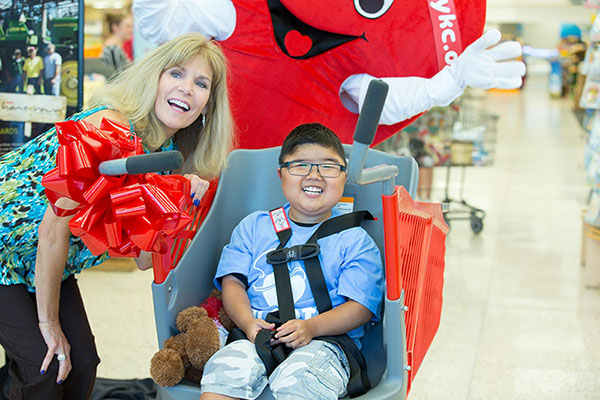 Tent 8 is proud to nominate longtime Variety supporter, Nancy Pagel, for the Presidential Citation. Her dedication to Variety the Children's Charity is not restricted to just Tent 8, she is a true ambassador of our mission. For going on two decades Nancy has supported Tent 8, and has been a board member for more than ten years.
In Kansas City, Nancy is the hub of a very major wheel.  As Marketing Director of HyVee (grocery) she has a close working relationship with most major entities in Kansas City (primary sponsor of the KC Chiefs, and the Royals, and partnerships with national food/ beverage brands). As a result, Nancy Pagel is a master connector, engaging and combining her corporate relationships and Variety.  Just one small example of her enthusiasm for Variety is how she influenced HyVee's Pepsi Representative, Jill Debok.  Starting out with donations and attending events with Nancy, Jill's involvement grew over the years to include the board's presidency. HyVee is an important Midwest supporter of Variety, but they have other charities of choice as well, including Juvenile Diabetes Research Foundation. They sponsor and contribute to dozens of events and organizations – Nancy works in this environment daily.
That is why we are so appreciative for her loyal investment in Variety Tent 8….it has contributed to our success in so many ways.
1. Recruitment of quality volunteers and leadership personnel
2. Connection to large corporate partners, i.e. the KC Royals
3. Tireless volunteer, the first to sign up, the most frequent to show up
4.  Coordination of a golf tournament that continues to be a major source of funds
($50,000 annually)
Nancy has the most heritage on our board.  She never gave up in the years when Tent 8 was challenged (in fact, took over the board presidency) and was a big part of recruiting a new Executive Director and supported the successful new direction we She is a problem solver, a generous team player, and doesn't hesitate to use her influence to assist Variety – but is at her shining best when engaging with Variety kids. Her greatest joy is helping to facilitate the presentation of equipment to children and families. You'll often see her in the background of photos, smiling and watching the families.
It seems like such a small pleasure as reward for such a great amount of time and work….but if you were to ask Nancy, she would tell you that what she receives from Variety is more than she gives.
The origin of the name "Nancy" means grace. That is the exact quality she exhibits, how she lives life, and how she represents Variety. It is for all this and more that we feel she is deserving the honor of being "graced" with the Presidential Citation.