Here at Variety KC we love hearing good news about the children we help sponsor! The following is a wonderful update on Aiyana, whom we assisted in obtaining a stander and jogger for her recovery and future endeavors to come.
Hi Variety KC!
Thank you for all the blessings you have given our family. Aiyana had VNS surgery couple of weeks ago and we were in the hospital. Her seizures have been out of control since the beginning of the year and I have been just tied up. Anyhow, I wanted to share some overdue pictures of Aiyana in her stander and the jogger.
I also wanted to share with you how these two pieces of equipment have impacted our life and how much we appreciate Variety KC's assistance in obtaining them.
Aiyana has a wheelchair but sometimes her wheelchair is just too much to carry around especially when I am just by myself. So I had been carrying her in my arms during therapies and doctor's appointments because we did not have a proper stroller for her. The new jogger provided so much comfort to her and me. I don't have to carry her in my arms all the time when I go to appointments.
Aiyana loves being outdoors when the weather is nice. She had outgrown her old baby stroller and we did not have a good way to take her outdoors for a jog or walk when the weather is nice. There were few opportunities when we could not take her with us because we did not have a stroller big enough for her needs. However, that changed after we got the new jogger. This winter has been unusually mild and we saw couple of weekends when the weather had been really beautiful for a walk. Aiyana and I went for a jog yesterday and she had a big smile on her face all the way while I was jogging. These smiles are rare and I loved that the new jogger gave us this opportunity to bring smiles to her face.
At home, she has been spending at least 30-45 minutes a day on her stander since she recovered from the buckle fracture. It is much needed therapy for her hips and legs to gain strength, prevent any injuries and avoid any surgeries in future.
Our family cannot thank you and other wonderful people at Variety KC enough to provide us with new opportunities to bring smiles on Aiyana's face and help us provide a better quality of life to her and us with the equipment donated by the organization.
Thanks from all of us!!
Urvi
The Rifton chair, which Variety KC purchased recently for the Children's Center for the Visually Impaired (CCVI), already has become an integral part of our preschool kindergarten program. (more…)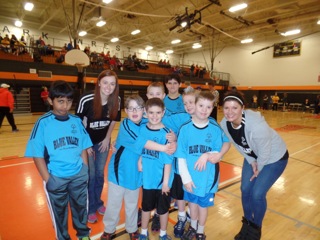 Through our work with local groups, we are able to grant money to those groups that give our young ones opportunities to live and grow. The Blue Valley Streaks Special Olympics is one of these groups that we happily donated to and received so much gratitude from in response:
The Blue Valley Blue Streaks Special Olympics athletes have enjoyed the uniforms and new basketballs that were purchased from the grant money provided by Variety Children's Charity of Greater Kansas City. It is through your most generous donation that our athletes have had the opportunities to participate in sports activities that would not have been available to them. Special Olympics may be the only place where people with intellectual disabilities have the chance to become part of their communities and develop belief in themselves. The athletes love wearing their new uniforms to our practices as well as the competitions.
Our Special Olympics programs have opened many doors for our athletes to achieve empowerment and acceptance. Through sports, our athletes are seeing themselves for their abilities, not disabilities. Their world is opened with acceptance and understanding. They become more confident by their accomplishments. They are also making new friends.
Of course this could not be done without the generous support of organizations like Variety Children's Charity of Greater Kansas City.
Thank you for helping our athletes shine and showcase their marvelous skills.