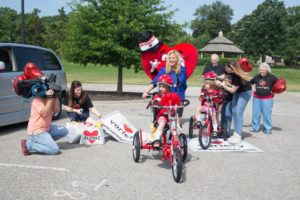 Shhh…don't tell Alexus and Dixie that they have limitations!
"Fearless" is how their mom describes her six year old twins, with Dixie being a little more of a tomboy than Alexus. Two little girls with with a very long diagnosis: periventricular gray matter heterotopias, as well as ARSACS, which is a deletion of the SACS gene within chromosome 13. This is much like Cerebral Palsy but is progressive like Muscular Dystrophy. They are fun loving, independent little girls that don't let their disabilities stop them from attempting the things they want to do. What they want most is to be included when the family rides their bikes, something they are currently unable to do due to safety issues and muscle control. This would also provide a fun, and beneficial, physical therapy tool. Dixie and Alexus doesn't like to be held back from anything they want to try.
Variety KC doesn't think they should be and through your help they are out cruising around on adaptive bikes. If you happen to see them out riding with their family and friends…wave, (Dixie will be the one pretending to be the pirate.)
Ryan is the definition of strength.  Born three months early, Ryan has epilepsy, blindness pervasive developmental disorder and autism. He is now 13 years old and attends the Kansas State School for the blind. He has a great sense of humor and is known as a jokester, his favorite trick on family bike rides is to kick off his shoes so the others have to find them.  A very bright young man; Ryan loves music, spelling, swinging and bike riding.
Recently he outgrew the WeeHoo that allowed him to join his family on bike rides (a pedal trailer attached to the back of his mom's bike). What he needs and wants is a Buddy Bike, a tandem style bicycle that would allow him to get the exercise he needs and loves. The adaptive Buddy Bike allows Ryan to ride in front while the steering is controlled in back. The Buddy Bike is specially designed for safety and transport, important for riders with special needs. As beneficial as it is to for the rider's health, it is not covered by insurance and it is beyond the family's means.
Variety KC doesn't want to see any child left out – and wants all kids to be active, be social and belong. Through your help, Ryan will hit the bike trails again!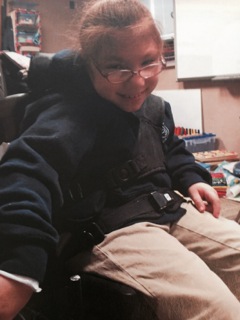 Meet Aidee Martinez, a 7 year old student at Alta Vista Charter School. Aidee was born with Cerebral Palsy and is currently confined to a wheelchair. She is unable to participate fully with her peers in physical education and other physical activities.
Variety the Children's Charity partnering with Establish CrossFit  have purchased a Challenger Adaptive Bicycle that will be delivered right to Aidee's school! Having this equipment will help Aidee feel *just like the other kids* and provide her the ability to build strength, endurance and self-confidence. Being active is a fundamental part of a healthy and active life. She will now be able to be active, be social and belong!