If you think kids don't make a difference…you haven't met Phillip. Here is his story.
The Phillip Scimeca Wiffle Ball Classic was inspired by young Phillip Scimeca and his desire to help others through the game of baseball/wiffle ball. The first Phillip Scimeca Wiffle Ball Classic was held in Phillip's Northland Kansas City backyard with hopes to raise a few thousand dollars for victims of the tornado that devastated Joplin, MO in 2011. The event ended up raising $5,600 which was donated to the Joplin High School baseball team to help with repairs to their field.
Now an annual Labor Day weekend event, the tournament has become a true community event and has raised more than $60,000 since 2011.
This Labor Day Weekend marks the 5th ANNUAL PHILLIP SCIMECA WIFFLEBALL CLASSIC and will benefit Variety KC kids!
Hundreds of kids, and now adults will participate in a fun weekend of Wiffleball to help raise funds for the Variety KC Inclusive playground at Tiffany Hills Sports Complex. Kids helping Kids. Phillip believes in inclusion and PLAY!
Phillip and his friends and Variety kids got together to help design this playground and decided on a Pirate and Mermaid themed attraction! The Playground should break ground in fall and be complete in 2016.
Please stop by this weekend and be a part of Phillips Magical event for kids!
WHERE: KCI Auto Auction Field, 6707 NW 102nd Terrace, Kansas City, MO 64154.
WHEN: Saturday, September 5, 2015 – Spaghetti dinner will be held 6-9PM. Tickets are $8 per person in
Saturday, September 5 – Adult Division first pitch begins at 6:30PM
Sunday, September 6 – Youth Division first pitch begins at 10am advance and $10 per person at the door and is open to the public.
Philip is AMAZING. Not only does he have a true heart to help others, but he is an inspiration to all. Phillip volunteers for Variety KC events and is a role model to all kids. Variety KC is honored to be the recipient of Phillip's love and understanding that ALL kids need to be included. Thank you Phillip!
Variety KC is trying to raise $160,000 for adaptive playgrounds and if you or your company would like to help, please send your donations to varietykc.org/get-involved/donate/.

Four year old Kennedy is a champion. He has faced a number of hurdles as a result of his Cerebral Palsy, Hydrocephalus, epilepsy, and developmental delays. He can't communicate beyond the slight use of one hand, pointing or fussing a bit. A communication devise would give Kennedy a voice, a way to communicate his wants and needs.  His mother dreams of the day she hears "I love you" from her baby – through whatever means!   Variety made it happen.  Generous donors gave Kennedy his voice!  Find out how you can help a child like Kennedy.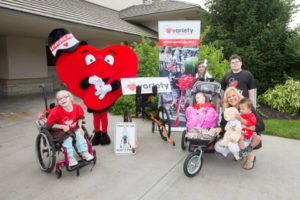 Pippa is seven years old with a diagnosis of Cerebral Palsy and Lennox Gastaut Syndrome (a severe form of epilepsy).  Pippa has never walked, but surgery in 2014 has provided hope. However, in order to walk, she has to be able to bear weight on her legs. Insurance doesn't cover equipment like a "stander" needed for Pippa to bear that weight. Without it, her legs will dislocate before the surgery. Insurance has also denied equipment to keep Pippa safe and upright in the bathtub and a positioning chair to assist in sitting.  (They don't cover medical equipment).
Variety donors are the most caring people in the world. They were able to give Pippa the equipment she needs to make life-changing gains in strength and mobility.  Find out how you can be a Variety hero to a child like Pippa.