We are excited to announce that this summer we will be opening the Variety Playground sponsored by the Automobile Dealers Association of Greater Kansas City. We would like to thank all of the organizations and individuals for their continued support.
Variety Playground will be a destination playground that will greatly impact your community for generations to come. The unique, custom design is very mindful of the many challenges that people face and is dedicated to creating a play space for every person regardless of what they can or cannot do.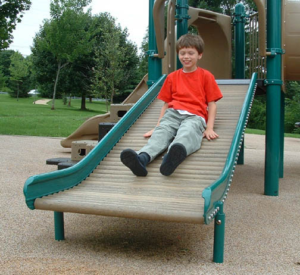 The Variety Playground will include features that you will not find on typical ADA compliant playgrounds. Some of the All–Inclusive playground will include:
Pioneer/trails themed area accessible to children and caregivers of all abilities; fenced around to provide the utmost safety.
Safe, smooth surfacing that ensures mobility for children/adults in wheelchairs and walkers and for those who experience difficulty on uneven surfacing.
Ramping systems from the bottom to the very top of every play element.
Swings including adaptive swings, toddler swings, and the very popular saucer swings.
Stainless steel slides and roller slides to enable children with Cochlear ear implants to enjoy.
Sensory rich environment including musical elements such as tuned drums and aluminum chimes, and interactive panels to spark problem-solving and team work.