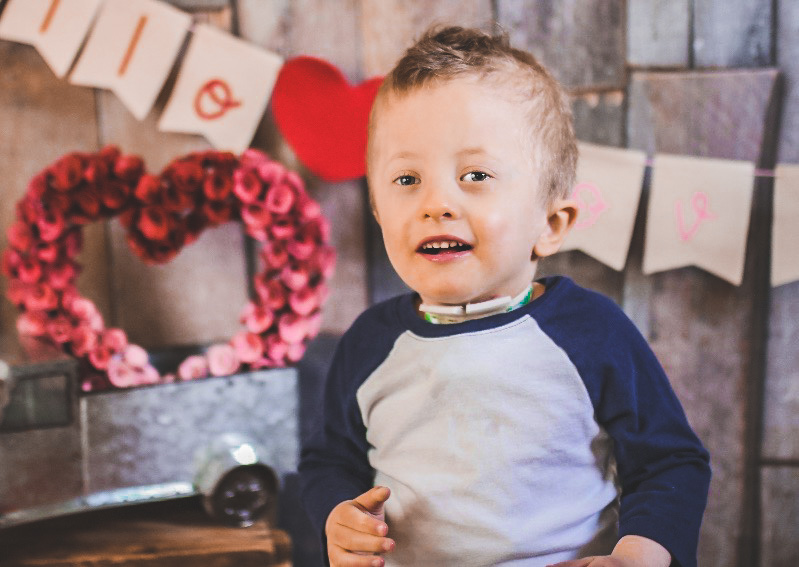 Easton is diagnosed with Trisomy 7 mosaic and Russel Silvers Syndrome. Easton had a lot of difficulty developing in utero. He severe low fluid and a hard time growing. He spent seven months in the NICU at Children's Mercy, his air way did not develop and had to get a Tracheotomy and g-tube. He came home on a ventilator and thankfully was weened off. Easton should get his Trach out hopefully this fall. It has been hard on Easton developing wise trying to breath, grow and learn how to use his body all at the same time.
Easton came into this world March,1st 2016. He weighed 3 pounds 1 ounce and 16 inches long. This is when we knew Easton would be running the show on his own time frame. He has done nothing but amaze us his entire journey.  Easton has had many hospital stays and a couple of close calls due to RVS and minor procedures. He has been a fighter even before he was born, we are so proud of how far he has come. He loves movies and music, if he could watch Frozen and Moana all day long he would be living the dream.
Easton has quickly started developing more recently mobility wise. He started crawling about 18 months ago and today he is going up and down stairs, walking with assistance and taking steps on his own. He will be starting kindergarten this fall and he does have a wheel chair to help when he gets tired. We recently tried a mobility bike and we think it would greatly benefit him! It would allow him to take breaks but also be able to stay mobile.
If you, like Variety, believe every kid should be social, be active, and belong – please donate today – www.VarietyKC.org/donate
Thank you for joining our #inclusionrevolution