https://www.kmbc.com/article/variety-children-s-charity-kendra-scott-partnering-for-world-kindness-day/29785357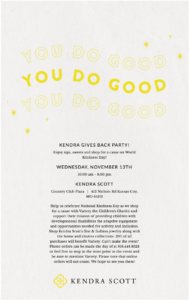 Wednesday, November13 th  is World Kindness Day, and Variety Children's Charity of Greater Kansas City and Kendra Scott are partnering to spread random acts of kindness throughout the day.
The
Kendra Scott Country Club Plaza
 location is also donating a portion of proceeds to Variety. Patrons can shop anytime between 10am-8pm and mention Variety for 20% of the purchase to support Variety's mission of providing children with developmental disabilities the adaptive equipment and opportunities needed for activity and inclusion.
For more information, click here.