Spinning Tree Theatre Camp
June 10, 2019 @ 7:00 pm

-

June 23, 2019 @ 2:00 pm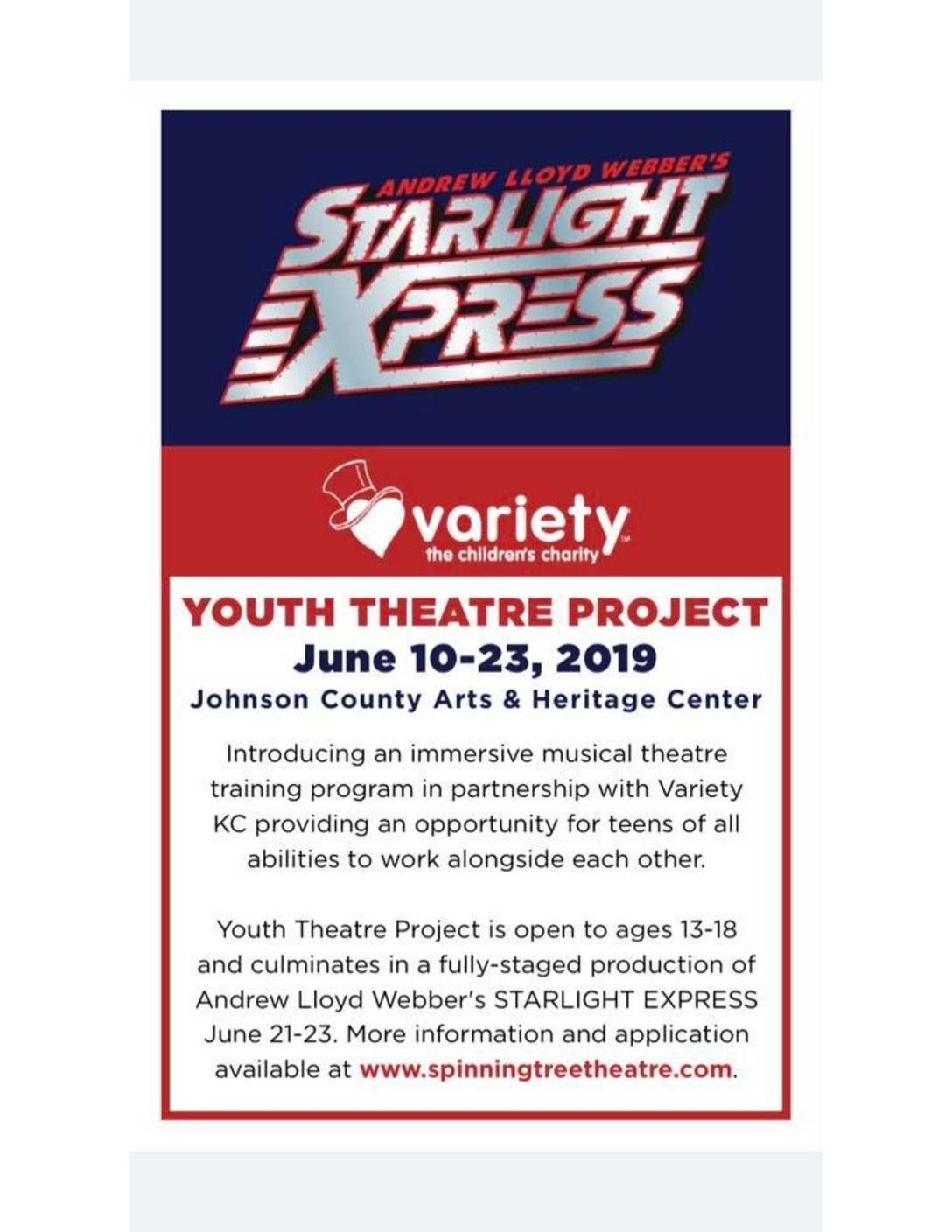 Spinning Tree Theatre announces Youth Theatre Project collaboration
with Variety Children's Charity of Greater Kansas City
Spinning Tree Theatre proudly announces the inaugural Youth Theatre Project, an immersive musical theatre training program in partnership with Variety KC culminating in a fully-realized production of a Broadway musical. The new program will allow non-disabled teens the opportunity to work alongside teens with disabilities. Youth Theatre Project will run June 10-23, 2019, at Johnson County Arts and Heritage Center, with performances June 21-23.
The inaugural production will be Starlight Express, with music by Andrew Lloyd Webber (Cats, The Phantom of the Opera). A child's train set magically comes to life for a spectacular race. Originally performed by an adult cast on roller skates, Spinning Tree's take will highlight each Variety child's method of mobility while allowing the non-Variety youth to locomote via heelies, roller skates or skate boards.
"Variety KC is so proud to partner with the amazing talents of Spinning Tree Theatre to bring inclusion to the arts," said Variety Executive Director Deborah Wiebrecht. "Kansas City is becoming a leader of inclusive opportunities for kids with disabilities, and all kids should be able to participate in and explore their talents and dreams."
"We are grateful to be able to continue our relationship with Variety KC by providing an opportunity for teens with all abilities to work alongside each other," said Spinning Tree Theatre Managing Director Andrew Grayman-Parkhurst.
Youth Theatre Project is open to ages 13-18. More information and application available at www.spinningtreetheatre.com. Registration will be limited in order to allow the spotlight to shine on each child.
Spinning Tree Theatre
Office (816) 569-5277