Read stories about the kids, families and events that your support has impacted and the lives it has changed.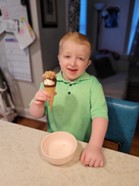 Theo has a syndrome called Rubinstein Taybi which leads to cognitive and developmental delays. As is typical with his syndrome, he has tone and coordination issues. Although he can walk and run, it is challenging for him to alternate feet while going up and down...
read more
Find Out How to Get Involved
Several generous Kansas City organizations offer an employee match program. Double your gift to Variety KC, ask your employer if they match contributions! Here is a list of known companies that do.