The Variety KC team was excited to attend the Kansas City Ballet's ribbon cutting of the state-of-the-art, $2.1M, South Campus at Meadowbrook studio. This new center has four studios and will house classes for ALL ages and ALL abilities!
With the exciting news of the new studio, the KC Ballet has plans to expand their adaptive program even more. Since the new studio will have 12,000 square feet which allows them to expand their programming to a wider range of classes for people of all ages and all skill levels.
One of the studios will be dedicated to adaptive dance, adding a complete harness system, for students with different cognitive and physical abilities. Now their adaptive dancers can move freely, all around the room!
"We're in the business of making dreams come true for kids coming to the studio for the first time or folks coming to the studio to watch our dancers, and for folks who have special needs or adaptive needs. We will finally be able to serve them adequately, as well as give them the opportunity to dream about dance," said KC Ballet Executive Director David Gray.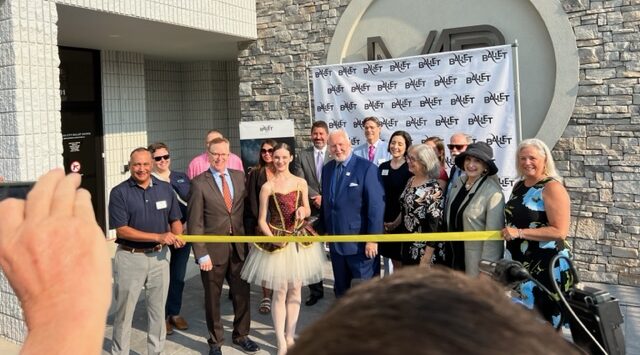 Classes for kids 2 to 19 include creative movement, pre-ballet, intermediate, and advanced, and is a comprehensive approach based on the traditions of classical ballet and prepares students for the widest spectrum of opportunities within the artistic community and professional dance world.
For each of the KC Ballet's adaptive dance program, they each have two teachers and 1-2 assistants.
For ages 3 to 7, the class is a creative movement class that they have live, accompanied by a drummer. They begin with Brain Dance to connect the minds to our bodies and then move on to dancing around the room, learning new dance concepts, and working they fine and gross motor skills.
For ages 8 to 13, the class follows a classical ballet class structure. The students learn ballet terminology, and ballet steps at the barre and around the room.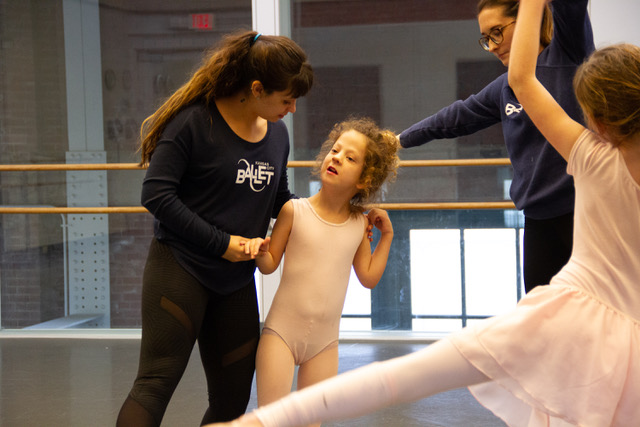 Bolender Center Campus
Saturdays
Ages 3-7 10:30-11:00
Ages 3-7 11:15-11:45
Ages 8-13 12:00-12:45
South Campus at Meadowbrook
Tuesdays
Ages 13-19 4:00-5:00
Saturdays
Ages 3-7 11:00-11:30
Ages 8-10 11:45-12:30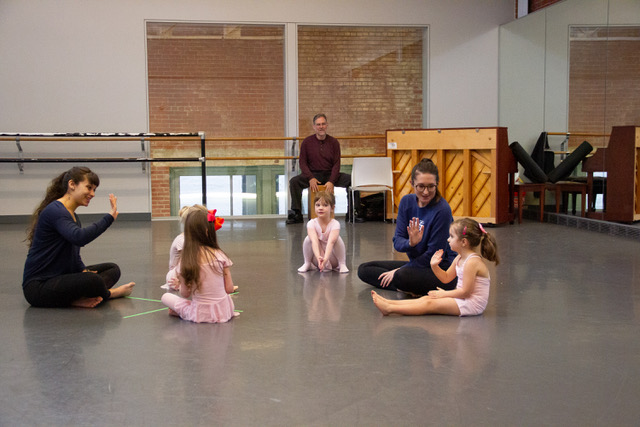 Why Dance? 5 Benefits of Dance Classes for Individuals with Disabilities from Covey.org
Freedom: Dancing gives you the opportunity to let loose and tap into your body's natural rhythm. There's no wrong way to dance—people of all abilities are free to move in their own way. Dancing highlights the beauty of individuality and uniqueness.
Exploration: Dance allows you to explore your own strengths and talents through movement. If communicating verbally isn't your strong suit, dancing shows you a new way to express yourself. Dance classes open a door to gaining new skills, stepping out of comfort zones, and expressing emotions that may be subconsciously suppressed.
Socialization: When attending a dance class, participants foster a connection with one another through partner work and moral support. Dancers with disabilities can transcend verbal language and use movement as communication. Dance has the ability to express what words cannot.
Empowerment: Dance creates a newfound sense of autonomy in those with disabilities. When in a safe space, such as an adaptive dance class, dancers feel empowered to move however they'd like without judgment.
Health: Dance offers a holistic approach to physical, spiritual, and mental health. Not only does it require a great deal of physical endurance, but it's also used as an outlet to work through emotional challenges. Dancing also helps to promote strength, coordination, and balance for people with disabilities, improving overall well-being!
---
Covey.org is a non-profit organization, and United Way partner agency, serving Wisconsin's greater Fox Valley. Covey is committed to creating opportunities for individuals with disabilities and their families. Since 1954, we have used our knowledge, compassion, and caring nature to help our clients achieve their highest potential.