MEET ROMAN!!
Roman has a diagnosis of Spina Bifida and Hydrocephalus, but these diagnoses do not define this sweet 7-year-old boy!! Roman walks with crutches and wears AFOs (ankle-foot orthoses) and also uses a wheelchair for long distances. He currently has a Ventriculoperitoneal (VP) shunt to control his hydrocephalus.
Roman's family started an incredible page for him @defyingodds_romansjourney to give other families in their situation HOPE. His parents shared, "When we got Roman's diagnosis it felt like our world was closing in on us. We didn't know what was in store for our baby boy but we knew we would do everything we could to make his life everything it could possibly be. After he was born, we quickly realized that he was more like a typical kid than not. Sure he has differences and he has to deal with things that most people don't; however, Roman doesn't let that define his life. He's just a 7-year-old boy who loves sports – especially wheelchair basketball and Chiefs Football, monster trucks, and playing outside. He has the best outlook on life and always chooses to see the good in every situation." Be sure to visit Roman's page for inspiration, hope, and the cutest pictures and videos you've ever seen!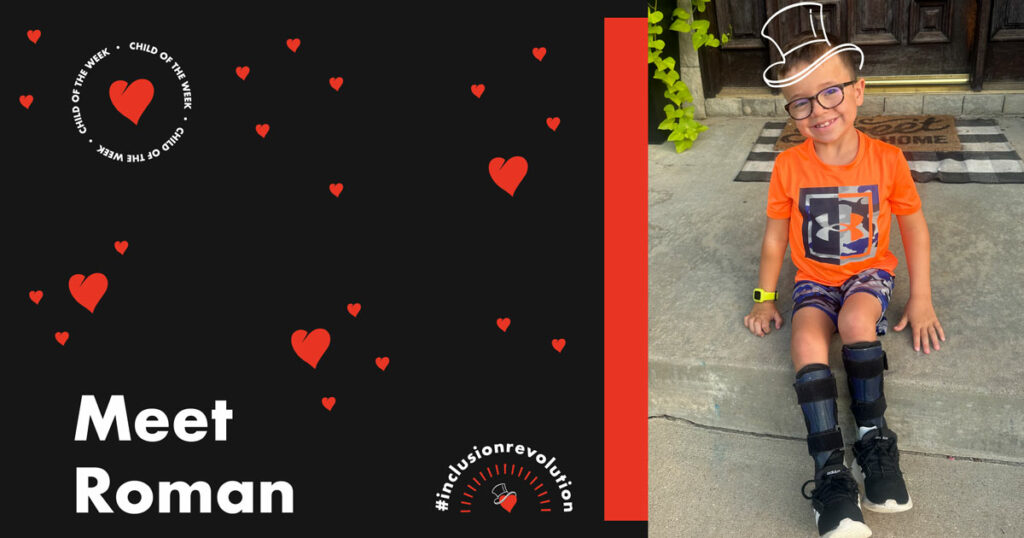 Roman loves to be outside and to play with his siblings! However, he is limited as to what all he can do outside with his mobility. Roman's family recently applied for a therapeutic tricycle through Variety KC which would allow him to spend time outside doing things his brother and sister do. His parents share, "This would mean the world to him! This would also be such an amazing exercise for his legs and something that is actually fun for him. A couple weeks ago we went to the ability summit in Overland Park, Roman was able to try a Rifton tricycle. He immediately took off! It was the very first time he was able to ride a bike without someone pushing him. We've tried so many other bikes and have tried rigging bikes to help him be able to ride but he either couldn't get the hang of it or didn't feel stable enough to even want to try. With this bike he tried I didn't even have to ask if he liked it because you could tell with his giggles and laugh that he was loving every second of it."
It is so unfair that therapeutic bikes of this nature can cost between $2,000 – $5,000 depending upon the modifications needed to meet the needs of each individual child – AND bikes of this nature are rarely covered by insurance. Can you help us to raise $2,700 to give Roman this bike and the opportunity to play outside with his siblings and continue these giggles?! DONATE today to help Roman!!!
Now let's go get this Chiefs-lovin boy a win tonight AND a new therapeutic tricycle!!!