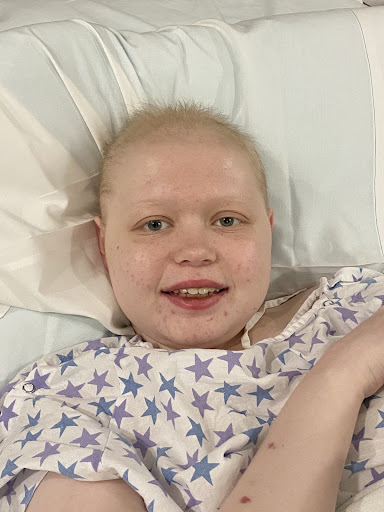 Rose is an 18-year-old young woman with the inability to walk due to tethered spinal cord. She is TPN dependent and diagnosed with acute leukemia.
Rose's dad shares her story, "Over the past two years, Rose has spent all but 7 months in the hospital. Just over two years ago, an undiagnosed medical condition caused her to suddenly lose the ability to sit, stand and walk. She has made minimal progress despite intense therapy at rehab hospitals and at outpatient spinal cord therapy.  In July 2022. Rose was dealt another medical surprise, unrelated to her other conditions, She was diagnosed with acute leukemia and has been inpatient in the hospital since then. Her treatment course has been more unique as her GI system does not work properly and she is dependent on IV nutrition. One thing Rose misses so much is snuggling with her twin sister and with her mom. A ceiling lift would allow Rose to be placed in the sectional sofa next to her mom or sister or maybe occasionally even me, her dad. Snuggling is a simple thing but something that power wheelchairs and hospital beds make quite difficult. We would love to have this installed before Rose gets discharged in the next month or two."
Variety KC believes in the healing power of human touch and will make it possible for Rose to snuggle with her family again soon!  Something as simple as equipment should not stand between a child and a hug from her loved ones. If you believe this too, please donate today at varietykc.org/donate. Thank you!