At Variety KC, we know that kids with special needs have no seasonal needs. The population we serve didn't need less during the pandemic, and in fact they needed more! As a result, last year or so was an extra busy one for Variety and our #inclusionrevolution. Here are a few of the highlights:
We launched the KC Inclusion Revolution, an initiative to help businesses understand the importance of including all kids in our community. If you would like a Variety representative to come talk to your business or help you to launch inclusive efforts, just contact us at VarietyKC@gmail.com. Let's build a stronger community by involving the entire community!
WyCo: Plans are in place for Legends Stadium and their drive to offer a more inclusive experience including a Variety KC all inclusive playground, sensory kits, accessible parking signs and more. The plans are attached!
Northland: Another nationwide first! Variety KC is partnering with Sporting KC at the new northland sports complex to create the first Power Soccer Field Outdoors AND Variety KC inclusive playground in the same complex. Power Soccer is traditionally played in power wheelchairs and always indoors on a gym floor or basketball court. What Variety KC is building is an outdoor field – one less "difference" between traditional and adaptive play. That's true inclusion. The complex is amazing, check it out at www.VARIETYKC.org/project/powersoccer
Variety KC Sensory Kits are gaining ground. This year we added Wonderscope Children's Museum (where we built an inclusive treehouse), Children's Mercy Hospital, Starlight Theatre, B&B Theatres nationwide, and – we outfitted 300 area police patrol cars with sensory kits to help them to better serve our communities.
What better way to introduce travelers to our inclusive city than through the Variety KC Inclusive Play Zone at the New KCI International Airport.  (Opening Spring 2023) This area allows kids to decompress before getting on a flight, and after arriving at KCI. Parents today are far more likely to travel with kids, making it a comfortable experience for everyone will result in a better flight for all. After all, doesn't every child deserve to travel and explore?
Variety KC partnered with Starlight Theatre to make sure they were equipped with inclusive tools to reopen and include all people of all abilities in the arts! https://youtu.be/nizBa4RZwKY
One of the most impactful ways to reach a large audience and introduce our  "hidden population" is through film. The New Variety KC Documentary will do just that!
We hit this one out of the park! As Variety started to build inclusive play areas, we installed communication boards to help all kids communicate with each other, their caregivers, and friends-in-the-making. We discovered that Sign Language Boards engaged even more kids and encouraged them to "talk" with one another. To date we have 20 KCMO Parks equipped with these boards – come try them out!
This year we were honored to be recognized by the following:
Nonprofit Connect honored our marketing and branding efforts with a Silver Philly Award.
International Variety honored Randi Mahomes with the coveted International Variety Presidential Award.
And we are proud to announce we once again achieved the Top-Rated Non-profit Award.
The NWSL (the new women's soccer league in KC) selected Variety KC as the first recipient of their community giving campaign.
And this is just the start!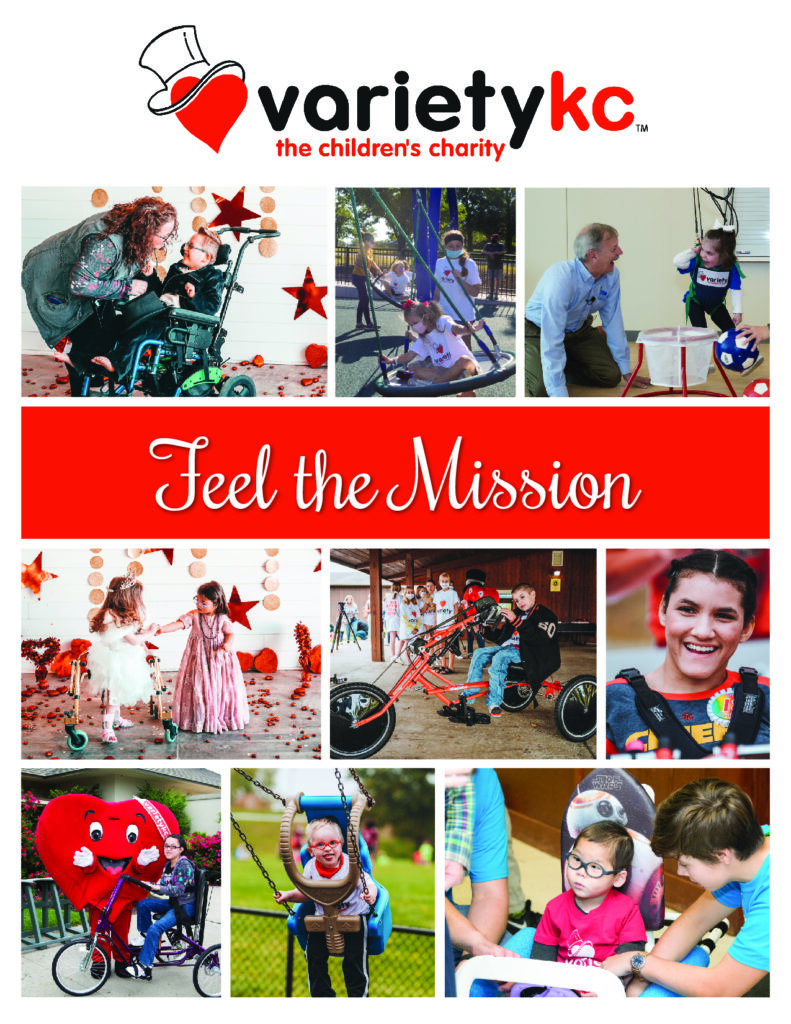 Follow us on social media to see the KC Inclusion Revolution at work and read our blogs at www.varietykc.org for a closer look at individual children we impact through generous donors and volunteers. And contact us to join the #kcinclusionrevolution – because of people like you, our community is rapidly becoming known as the most inclusive community in the country.