Kauffman Center For The Performing Arts Inclusion Program
Grand Opening:
October 1st, 2019
Location:
1601 Broadway Blvd, Kansas City, MO 64108
The Need
The Kauffman Center is leading the way for inclusion in the arts and Variety KC is thrilled to partner in their efforts. This project is so much more than removing barriers and providing access, it's about encouraging dreams and fostering talent.
The two new Variety-supported Serenity Rooms offer a quiet, welcoming space that patrons can visit when they need a little privacy or to take a break from the performance or crowds. Each Serenity Room is equipped with comfy furniture, outlets, dimmable lights, and sensory items like a fiberoptic color changing lamp and playable art sculpture. All of these items can help someone relax and refocus in potentially stressful or overwhelming moments. Since each Serenity Room is outfitted with a monitor, patrons don't need to worry about missing a moment of the performance they came to see. Patrons can use either of the two Serenity Rooms during a visit to the Center by asking a staff member or volunteer.
New Sensory Kits made available by Variety KC are also available. Each kit includes noise-muffling headphones, a weighted lap pad, and a handheld sensory item. These items are designed to provide comfort and sensory stimulation for someone who is affected by the sights and sounds of a performance. During all performances, Sensory Kits will be available for complimentary use by any patron at Coat Check, located on the Plaza Lobby Level.
We are especially excited for the addition of universal changing tables in the family restrooms located in the Mezzanine Level and First Aid Office. These tables serve infants to adults, making them not only inclusive but providing a measure of dignity.
Thank you, Kauffman Center, you are making sure all kids have a chance to Be Active, Be Social and Belong in the arts!
Universal Changing Tables
Ribbon Cutting Ceremony at the Kauffman Center / Photo by David Riffel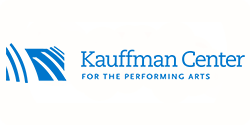 Find Out How to Volunteer.
Several generous Kansas City organizations offer an employee match program. Double your gift to Variety KC, ask your employer if they match contributions! Here is a list of known companies that do.