Wonderscope Inclusive Treehouse
Wonderscope and Variety KC Partnership!
Grand Opening:
Fall 2020
Location:
Red Bridge Shopping Center
The Need
Kids love Wonderscope, the Children's Museum of Kansas City – Variety KC loves them too! In the fall of 2020, Wonderscope will be opening in the old Red Bridge Shopping Center, and Variety KC will be right there with them.
The new Wonderscope will be a dynamic experience for learning through play, featuring hands- on exhibits and unique programming to inspire, educate, and entertain. Variety KC is helping to work with designers to make sure inclusion of all kids is a priority.
Variety KC is providing the first Adaptive Tree house in KC- It will be in the outside section complete with ramps, sensory experiences and fun. Variety KC is also sponsoring the Sensory Room in memory of Dena Duvall. This will be a quiet space that kids can calm down and enjoy some quiet in order to rejoin the activities.   We also informed designers about using soft surfacing in the outside areas so wheelchairs and walkers can utilize the entire play space while building friendships.
To make sure that every child gets a chance to enjoy Wonderscope and all it has to offer, Variety KC is building an inclusive treehouse – right there in Wonderscope! There will be a ramp to enter, space for wheelchairs to turn around, and sensory activities inside for ALL kids to learn, dream and have fun.
Variety Kc has also encouraged an adult sized changing table in the restrooms so kids of all ages can be changed with dignity. And in the new parking lot will be Variety KC "Think of Me" signs in the handicapped parking spots to create awareness to drivers to save these spots for kids and families who need the extra space to unload kids with special needs and their equipment.
Variety KC was proud to be a part of the conversation of what inclusion looks like in new
construction for all kids. We were able to gain input from parents whose kids have a variety of special needs to make sure the new Wonderscope is inclusive for all kids!
Want to help us build this treehouse? Donate Today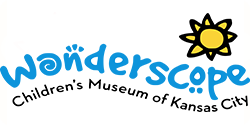 Find Out How to Volunteer.
Several generous Kansas City organizations offer an employee match program. Double your gift to Variety KC, ask your employer if they match contributions! Here is a list of known companies that do.