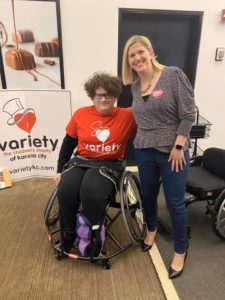 Employees at Russell Stover recently held a fundraiser raising $4,500 for the Logan Baker Foundation. Logan's life was cut short at just 17 months due to Congenital Muscular Dystrophy, and a foundation was formed in his name.  Logan's mom works at Russell Stover.
Looking to change the life of another area child, the Logan Baker Foundation turned to Variety KC and learned of a young man named Caleb. Caleb has spina bifida and uses a wheelchair for mobility. He has become something of a local star playing wheelchair basketball and was asked to represent KC in a national basketball tournament this month.
The problem is, Caleb wore his old previously owned sports wheelchair and coming from a family with nine children, finances just weren't there to purchase a new one. As a result, Caleb has tried to use parts of his regular wheelchair in combination with his sports wheelchair – a temporary fix that became dangerous when a wheel fell off during a game.
The Logan Baker Foundation stepped in just in time, and Caleb will have a chair for the upcoming tournament. The chair will be awarded tomorrow in a surprise presentation at Russell Stover's.