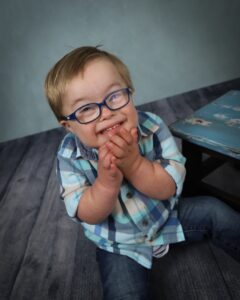 Carson was diagnosed with Down Syndrome. No matter what challenges Carson has faced, he has overcome them with a positive outlook and begins each day new – with a smile on his face… which makes us "happy always".
Carson is a fighter. He spent his first 52 days of life in the NICU due to heart defects and pulmonary hypertension that came with his diagnosis of Down Syndrome. He had open heart surgery at 5 months old. He has been hospitalized numerous times, and he tackles each setback with a smile.
This piece of equipment will help build the bond between he and his cousins that will carry them through childhood, adolescence, and adulthood. It will keep him from being left behind or unable to play with his peers and build the confidence he needs to extend his play skills and increase his participation in this family as a child.
If you, like Variety, believe every kid should be social, be active, and belong – please donate today – www.VarietyKC.org/donate
Thank you for joining our #inclusionrevolution