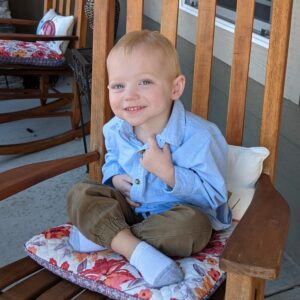 Damien is diagnosed with infantile spasms and epilepsy/global developmental delay. Damien fought off infantile spasms, a very rare form of epilepsy for most of the 1st year of his life. During that time he regressed and lost many skills both cognitively and physically. He has since beat the spasms but is having other epileptic seizures a few times a month while still working hard to progress in his development. He has come so far in the last year. He is cognitively and developmentally around 18 months. He does PT and OT every other week and speech twice a week so he is a busy little guy and hasn't had the greatest sleep for a while now.
Damien has been our little warrior from the beginning of his diagnosis. He has had many hospital stays, blood draws, medication changes and setbacks along the way but one thing has never changed, his absolutely shining soul. This little guy has faced an uphill battle for most of his life yet he still continues to stay positive and brighten a room with his smile. Doctors told us he would likely never walk or talk but he didn't accept that and is now on the verge of walking and beginning to babble so much more. He has always had the most beautiful disposition with the best smile and giggle that is just downright contagious. He loves his siblings and has an extra special bond with his daddy.
Since he has grown, it has been too difficult for us to lift him in and out of a crib because the mattress would have to be on the floor to prevent him from tipping over the rail. He doesn't yet understand that trying to stand up at a short rail would send him over the edge so we can't use a toddler bed or even a twin with the typical rails. His sleep has not been the best in part due to this. We want him to have a comfortable and safe place to sleep but our insurance denied us. This bed would also give us peace of mind because he has seizures at night sometimes and this bed comes with a camera built in that would be so helpful in monitoring for seizures. It is also a calm space for him to relax because he does tend to get overstimulated at times. We would be so grateful to have a safe and comfortable place for our little warrior to sleep and be well rested to be able to conquer the day and have the energy to keep working toward milestones through the multiple therapies he receives.
If you, like Variety, believe every kid should be social, be active, and belong – please donate today – www.VarietyKC.org/donate
Thank you for joining our #inclusionrevolution