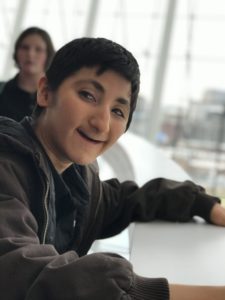 Ethan was diagnosed with cerebral palsy, mixed syndrome and as well as Rubenstein-Taybi syndrome. This is a condition characterized by short stature, moderate to severe intellectual disability, distinctive facial features, and broad thumbs and first toes. Additional features of the disorder can include eye abnormalities, heart and kidney defects, dental problems, and obesity. These signs and symptoms vary among affected individuals. People with this condition have an increased risk of developing particular types of noncancerous brain and skin tumors.
None of this defines Ethan!  To his family, friends and community – Ethan is just a sweet and loving boy with a great demeanor. He is non-verbal and loves to greet people. He waves his hand and give high fives to every person he meets. He enjoys going outside with his family to check the mailbox, play catch with a beach ball and scribble on the concrete, He also enjoys playing video games with his older brother and one on one interaction with a helper focused on life skills and teaching opportunities.
Adolescents who grow into adults with special needs, have been shown to have worse cardiopulmonary abilities at adulthood. This can lead to major long-term health concerns such as metabolic syndrome, obesity, and cardiopulmonary dysfunction, This is a big concern for Ethan's family, especially since due to Ethan's limited mobility, he easily fatigues and is unable to exercise and develop his strength and stamina. He depends on a wheelchair and tricycle to move around. The school bought him a bike that he utilizes during school year. After school, he don't have anything to utilize to exercise.
This lack of exercise opportunity has increased since Covid-19. Before the school building closure, Ethan used the school tricycle to move around the building and he was able to interact with his friends and teachers happily. Since the school buildings closure, the school district temporarily loaned him the tricycle for use weather permitting. He enjoys the fifteen minutes morning and afternoon bike ride around the block and meeting and bike riding with the neighborhood kids. Having an adaptive bike of his own could do so much more!   More activity,
Receiving the tricycle gives him the opportunity to get out of the house and meet and interact with peers. This also gives him the opportunity to strengthen his major muscle groups, and improve his cardiopulmonary function.  Donate to Varietykc.org to help us help kids like Ethan!  #varietykc #inclusionrevolution