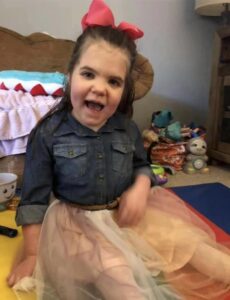 Lottie has a very rare genetic disease called TBCK. Less than 100 kids have this diagnosis in the world. Because of this disease, Lottie is globally developmentally delayed, and currently unable to walk or stand.
Lottie and her siblings are our everything. We want what is best for all three of them, but sometimes, well often, Lottie's needs are far greater and much more expensive. Not only the therapy and equipment she needs medically but the equipment she needs to live a fulfilling inclusive life.
We know we medically need a stander for Lottie to keep her muscles strong and to keep them from atrophy. We chose the Rabbit because not only will it work for her standing needs but it has wheels and will become a mobility device for her as well. With the Rabbit, she will be able to strengthen her muscles while also participating in play and life with her siblings and peers. Unfortunately our insurance company does not understand the value in a stander or mobility equipment. I have included a picture of her trying the rabbit at our last doctors appointment.
If you, like Variety, believe every kid should be social, be active, and belong – please donate today – www.VarietyKC.org/donate
Thank you for joining our #inclusionrevolution