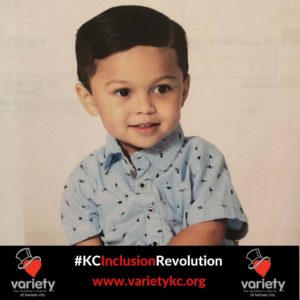 Recently we heard from Silas' therapist. He's a three-year-old with a diagnosis of Autism Spectrum Disorders and is nonverbal, but he's been working really hard at that. In fact, he has been involved in toddler and preschool classes, individual speech-language therapy, and ABA services since February 2018. He has participated in the Pathways program since August 2019, where he receives daily, intensive interventions for speech, occupational therapy, physical therapy, music therapy and behavior. Here's what his speech therapist told Variety KC:
"Over the course of the treatment sessions, I have introduced Silas to the iPad with the ProLoQue application, and he has shown the ability to attend to and imitate my models. Additionally, he has retained knowledge from previous modeling, to then use some of those words spontaneously on the device at a later time. I am recommending the Apple iPad with ProLoQue augmentative communication application for Silas. Having access at all times (home, school, community) to a robust communication system will allow Silas to communicate more of his wants/ needs, and be able to increase the variety of communication functions he uses, such as giving directives and making comments."    Karianne Radovich, M.S., CCC-SLP
Karianne brings up a really critical need, the need for access at all times, not just school. With our schools closed, so many kids are going without the therapy they need and devices they use. Variety KC is reaching out to donors and families to make sure every child has a voice and a way to be heard. Please donate today at www.varietykc.org/donate/    Thank you!