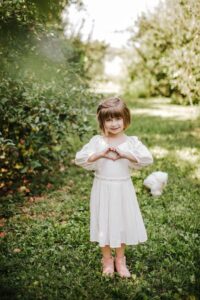 Sophia was diagnosed with Chorea/Hyperkinetic Progressive Movement Disorder Genetic, Autism, Anxiety Disorder, Movement Disorder requires her to wear SMO braces daily on her feet to control ankles and legs. Her left eye is legally blind.
Sophia is a beautiful young girl that has been going through multiple challenges recently. She always has a smile on her face even with her daily struggles. She was diagnosed as a toddler with autism and anxiety. Our first sign of her communication struggles were her being non verbal until 3 years of age. She started slowly developing a vocabulary and would get severe anxiety when she was around others. We learned at age 3 her vision was severely impaired in her left eye. This can also be very challenging for her learning. Most recently Sophia was evaluated at Children's Mercy for an involuntary movement disorder that runs in our family. She was found to have the same disorder called Chorea/Hyperkinetic Movement Disorder that several siblings have. We discovered this at her routine neurology appointment this past August 2020. This affects her mobility and can cause multiple challenges with daily life. My understanding is that Chorea affects her basal ganglia in the brain. Children and Adults with this are at high risk for neuropsychiatric illness and mobility struggles. The Chorea causes uncontrolled movement in your limbs that are random and unpredictable.
My hopes are that an ipad will help her gain access to her therapies that are virtual and in person. This will be a great device for communication that she truly needs. We most recently learned that she has very slow processing speed. Her communication is a big component on why she is struggling so much. I feel this opportunity will give Sophia the confidence she needs and the access to all her much needed therapies. I know this will help her in so many ways. Thank you Variety KC!
If you, like Variety, believe every kid should be social, be active, and belong – please donate today – www.VarietyKC.org/donate
Thank you for joining our #inclusionrevolution