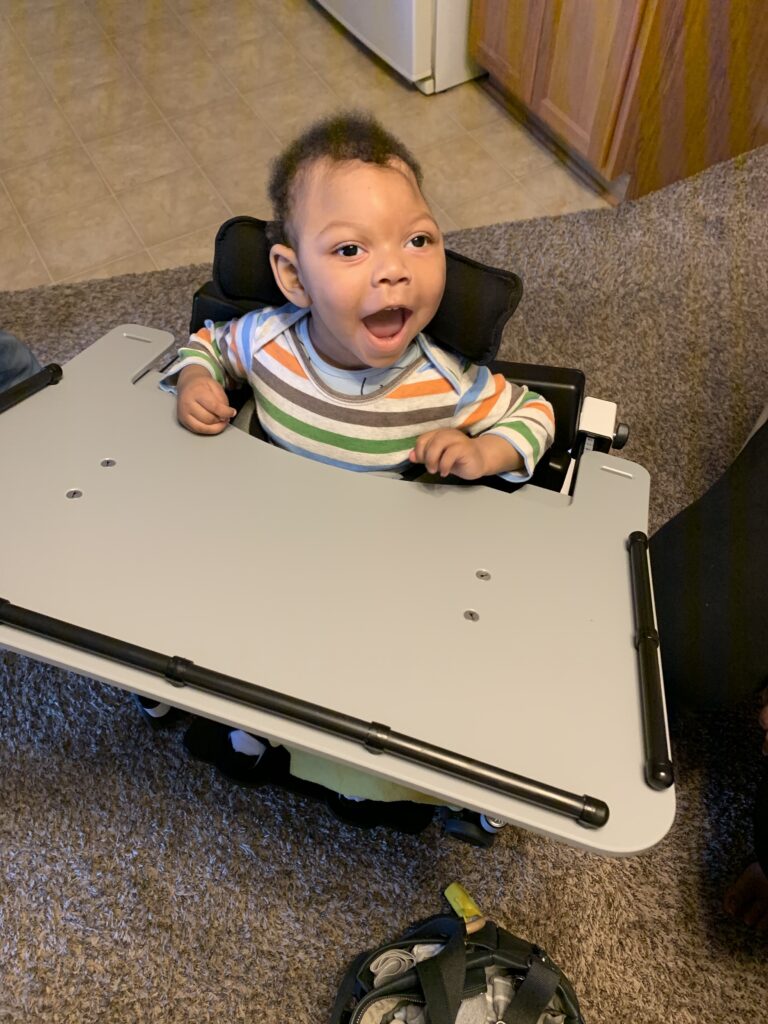 Taj is a vibrant, happy and social boy who absolutely loves to be around other people and interact in his own unique ways with them. Although he has been diagnosed with Cerebral Palsy and other medical conditions (epilepsy, etc.), he is not his diagnoses; he is not his disabilities. His medical diagnoses and disabilities impact his muscle tone and strength, and his ability to do things independently; such as walking and talking. And while those are certainly challenges for Taj, and for us as his family, they do not define us, and they most certainly do not define him. We work hard to break down all the barriers they create to help give Taj every opportunity to be as independent as possible, and experience the world around him with joy and wonder; the same as any child. Even though Taj is different and has unique challenges, what people remember most about him is his smile, his sociable personality, and the curiosity in his eyes. He has taught us so much about true, unconditional love, patience, forbearance, tolerance, and most importantly, kindness. He touches the heart and soul of EVERYONE who knows him or meets him, and I think that must be his superpower!
Taj is the best teacher. Every day, he shows our family what it means to "show up" and "do the work". He works harder than all of us, and gives each of us a reason to keep doing our best and showing up, day after day. He has been instrumental in bringing my entire family closer together; in an effort to love and support him, and help him become the best, strongest, most independent version of himself. Even at the most basic level, with nothing but pure grit and hard work, Taj shows up daily for his physical, occupational and speech therapies. He works hard, and consistently crushes his goals.
Part of my families effort to support Taj is procuring and providing him with all the tools and resources he needs to continue to progress and reach new heights. His therapists have been strong advocates for that Taj is ready to do more and be challenged; especially as it pertains to communicating. He shows us in his own unique ways everyday that he has things to say, and he has a voice worth amplifying and listening to. We want nothing more than to hear him speaking his own words, thoughts and feelings; and until then, we want to make sure he has every tool and resource at his disposal to communicate however he can. The amazing community of therapists and specialists that have been working with Taj since birth have all often said how Taj knows more than he can communicate, and our goal is to change that!
If you, like Variety, believe every kid should be social, be active, and belong – please donate today – www.VarietyKC.org/donate
Thank you for joining our #inclusionrevolution