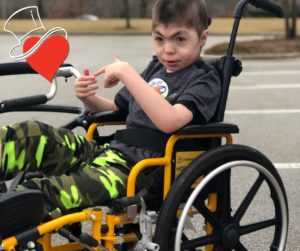 Meet David. On paper, David has chromosome 9p deletion (Alfi syndrome), scoliosis, global developmental delay, metopic craniosynostosis, persistent femoral anteversion, external tibial torsion, patellar instability, disorder of peroneal tendon. But this doesn't define David. He is a young man who would like to be more independent through the use of a walker. This would give him more independence, the ability to chase his brother around the room, and they interact more closely. Here's what David's mom wants you to know:
"Inclusion is important for children that have special needs, because the more that the child is around a "typical" child the better they can developmentally grow. This is done by peer role modeling. So, when a child that is struggling with something and they see another child doing it, they can attempt to mimic it. This will help their development. Inclusion is also important for special needs children because it helps them not feel so outcast. They are able to build friendships and those friends will be there to help them and support them. Being accepted is something that every child needs, no matter where they stand developmentally."
And remember, Inclusion doesn't just help children with special needs, it benefits typical children. It makes them more considerate of others who might be a little different. It shows them how to be more compassionate and have more patience. Inclusion allows them to learn that everyone is different and that there is nothing wrong with that. You have to see the differences in others and see that they are a great thing!
Variety KC donors understand how important inclusion is and how a walker would support David's desire to be included! Help David and other Variety KC Kids like David – donate today:  varietykc.org/donate/