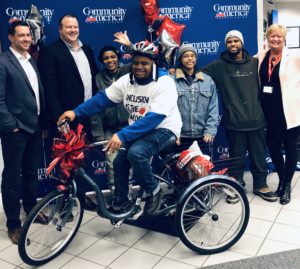 Wesley is like other teens, he wants to get outside and just hang out with his friends. There are a number of challenges he bravely faces each day; autistic disorder, ADHD, intellectual disability and anxiety –  being outside and playing with neighbors has always brought him joy.  Then, someone stole his bike.
Since then, he sits in the house and watches his friends and neighbors play. No chance for social interaction or his regular exercise.
Variety KC donors believe no child, or young adult, should be sitting on the sidelines. Wesley got his bike! 
Please help us to make sure all kids have the chance to Be Active, Be Social, and Belong!  Donate today at varietykc.org/donate/
Thank you on behalf of Wesley and all our Variety KC Bike Riders!