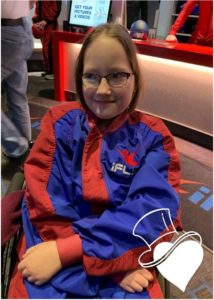 Zoe is a spirited young lady who loves playing with her sister and friends. Just look at the spark in her eye! She is surrounded by support in a home consisting of her sister, stepmother, and father. As an infant, Zoe was diagnosed with Spina Bifida, and as a result, relies on a wheelchair. Zoe's father recently acquired an electric wheelchair that fits Zoe very well; unfortunately, the chair did not come with batteries.
Money is very tight in the families household, so Zoe's father reached out to her case manager to see if there was a way to get batteries for this chair. Having access to an electric chair would be a fantastic thing for Zoe! It would allow her the ability to travel greater distances as well as increase the ease with which she ambulates when she is not feeling well.

Her caseworker immediately thought of Variety KC. She knew that Zoe's sister and friends frequently gather at Zoe's home to ensure that she is included. The caseworker remembered that Variety KC generously provided Zoe with an adaptive bike so she could participate when her friends were playing outside. The adaptive bicycle has been an excellent addition to her life and ability to join with her peers.

Once again Variety KC is excited to help Zoe and her family. Batteries for the newly acquired second-hand wheelchair can significantly improve Zoe's quality of life and sense of independence. Variety's generous donors understand that! If you can help Variety KC make mobility possible for area kids like Zoe, please donate generously at www.varietykc.org. Thank you!