Nine year old Austin is a firecracker! His active family of triathletes wants him to join them on the bike trails, but Austin has outgrown his bike trailer.
A size appropriate trailer trike would get him, and his family, on the road again! Contact varietykc@gmail.com and help Austin Be Active, Be Social and Belong!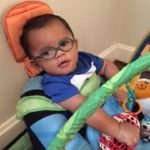 Axton was a long awaited miracle. His parents went through 11 attempts at artificial insemination and two IVF to bring this cutie home.  When he was six months old, Axton aspirated at the sitter's house resulting in anoxic brain injury.

Doctors feel that weight bearing in a stander would help strengthen his extremities and he could possibly regain some movement and mobility.  This little fella needs your help, please contact varietykc@gmail.com.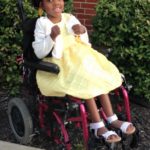 Nothing holds 9 year old Molly back. Well, almost nothing.  Cerebral Palsy with Hypertonia and Spastic Quadriplegia have resulted in Molly relying on a wheelchair for mobility. Still, she is determined to do what others are doing.
Recently Molly was adopted by a loving family, but the van lift Molly needs to get in and out of vehicles safely is beyond their means.  Help Molly show her smile all over our community, to assist in providing a van lift, contact varietykc@gmail.com