You're not getting older…you're getting kinder! This year, celebrate your birthday by throwing a fundraiser for Variety Kids!  Learn more about it here:
Throw a legendary birthday!  Last year, just before the Super Bowl, Randi Mahomes dedicated her birthday as a fundraiser for Variety Kids. It was legendary and led to so many people asking how they could throw their own Variety Birthday Fundraiser – here's how:
You can count candles on your cake, or you can count the ways you'll help Variety KC Kids when you shine your birthday spotlight on them and hold your own birthday fundraiser.  Here are the details:
Don't like to dust? Hate clutter?  Simply don't need more "stuff?"    Make this birthday legendary and request gifts in the form of donations to Variety KC Kids… here's how: Varietykc.org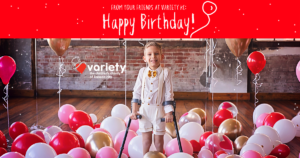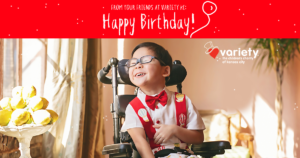 We love our Variety supporters and family, and so many have asked how to donate their birthday gifts to Variety KC like Randi Mahomes did.
It's simple, it's so very helpful, and it makes your birthday a life-changing gift for others.  Thank you for your consideration! Happy Birthday everyone!