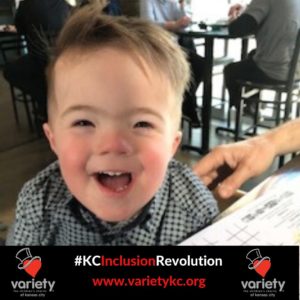 A note from Jax's mom:
"Our little guy was a surprise all the way around! When we thought we were done with having kids, not only did he surprise us with his presence, but also with a little bit extra. Jax has Down Syndrome. His diagnosis was scary at first, the unknown of what our future would hold. Now looking back, there were so many emotions of fear that just were a waste of energy! He is just like any other kid; we have our ups and our downs. He has things he absolutely loves, and those he dislikes. I'm pretty sure terrible twos are right around the corner. One of the toughest times emotionally in our lives, turned into the most beautiful piece to fit into our family. The unknown is always going to be there, typical child or not, we just see it through a different lens and embrace it! There is absolutely no way (maybe I am biased) you can meet Jax and leave without a smile, he is contagious! 
Jax is two and not yet walking, but he sure does get around, probably faster than if he were standing on his two feet. When we bought the house we are in now, we didn't plan on having any more kids, so a house full of stairs is what we have! Our first thoughts were, "how in the heck are we going to gate our house?" It would literally be impossible! One of his early intervention therapists said he would just have to learn the stairs, and that he certainly has. That boy can slide down those stairs so fast and quietly, it's freakishly weird! He does the same going up. So why walk when you can get there in a flash by crawling?! 
He is definitely persistent when it comes to being able to do something that his older brother does. It's pretty amazing to see him try to figure out things without even been shown them, for example a phone or the tv remote. Kids these days are so dang smart! When we are outside, Jax wants to be outside doing what the other kids are doing, not just crawling around on the ground. For him to have a bike that he can grow with and use to feel included would mean the world to us! I don't know when Jax will realize he is different, and that is something that we one day will have to do. But right now, and here in the next few years, I don't think he will care how different he is, he will just want to be able to play like everyone else!
Jax is the sweetest, ball of Joy I have ever met. He literally lights up the room anywhere we go. If it's at Costco wanting to give fist bumps to everyone or spending his Sunday Mornings in the nursery at church, myself and everyone who encounters him just can't get enough!! He LOVES his big brother Eli. They have been best buds since the day he was born! So basically, anything Eli likes, Jax Likes. Typical boy stuff like balls, books, markers, and cars are a hit in our home! Jax also loves his music. Anything he can find to bang on or if he is nearby the piano, he is constantly Jammin out! I love to run, so Jax has been forced to love to be in the stroller. He has never complained, and we usually make some pitstops at the parks. We are also a family that is on the go, so I feel like whenever we have a free day, we try to hit up the Zoo or Science City, maybe get out and about somehow! Jax is also forced to love the gym I work out at, and he has his crew of kiddos that he spends time with throughout the week!"
(Come on – look at that face, admit it – you're smiling back!)  This little ball of energy needs an adaptive bike to keep up with his active family and friends. It will help him develop confidence and independence, as well as provide the physical exercise that is so important for kids with special needs.
Please help us to get Jax his bike. Donate today at varietykc.org/donate/  Thank you!