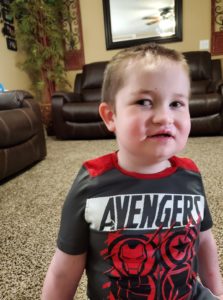 Champions don't quit.  They rise, they fall, they try again.  At the age of seven, Lucas is a champion!
A malignant brain tumor has resulted in visual impairment. Two life threatening emergencies have taken place over the last two years. Each time, he fought back to regain the skills he lost.  He currently needs assistance to walk and navigate changing or uneven terrain, but Lucas is rising and working hard.  Because of the current virus and his vulnerable state, Lucas can't take advantage of community resources, so his entire world is focused on his family and home surroundings. Being outdoors is his happy place. He loved riding his tricycle, but has outgrown it and needs an adaptive bike for safety reasons.
His mom tells us that even though Lucas in non-verbal, when he gets on a bike he jabbers and makes sounds of pure joy. We know that his joy would increase with the proper equipment. An adaptive bike would give him valuable physical activity, a chance to do something socially with his family, and a way to build his confidence and feeling of independence.  Variety's generous donors understand this – and Lucas is getting his bike!  Won't you help us make sure that all the kids, all those champions, have the bike they need too?  Donate today at Varietykc.org/donate
Thank you!