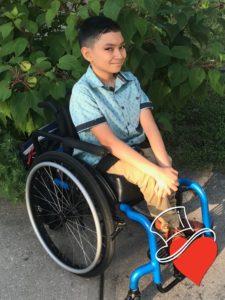 Jesus was born with Spina Bifida    (Spina bifida is a birth defect that occurs when the spine and spinal cord don't form properly. It falls under the broader category of neural tube defects. The neural tube is the embryonic structure that eventually develops into the baby's brain and spinal cord and the tissues that enclose them.)
But – his diagnosis doesn't stop him!  He loves all sports, loves to be active, and plays for the KC Kings (wheelchair basketball).  In order to keep playing safely, Jesus needs a wheelchair designed specifically for the sport. A basketball wheelchair means inclusion, it means beneficially fitness opportunities, and it means being part of a team!
Variety KC donors look forward to seeing Jesus out on the court!  Shouldn't every child have a chance to get off the bench and into the game?  Help us make that possible…donate today at VarietyKC.org/donate/
Thank you so much!