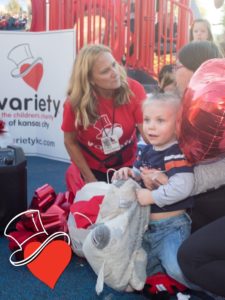 Noah is a young boy with autism spectrum disorder (ASD). ASD refers to a broad range of conditions characterized by challenges with social skills, repetitive behaviors, speech and nonverbal communication. According to the Centers for Disease Control, autism affects an estimated 1 in 59 children in the United States today.
Noah is non-verbal and has a busy schedule. Noah splits time between mom's house, dad's house and daycare… as well as extended family members houses who help with childcare. At school, Picture Exchange has proven to work for him, but it is extremely hard to manage and keep the hundreds of pictures organized and together between location transfers. A communication device would be ideal for Noah to express his wants and needs. 
Despite both parents working,(they are raising 4 children, one with special needs), and it's difficult to find the extra dollars for a communication device such as an iPad with Touchchat. 
Variety KC partners believe that every child deserves a voice, a way to communicate and alleviate the frustration of not making their needs, wants, and thoughts known. Noah is getting is device, but there are so many more who need them. Please help us give every child a voice – donate today at VarietyKC.org/donate/
Thank you!