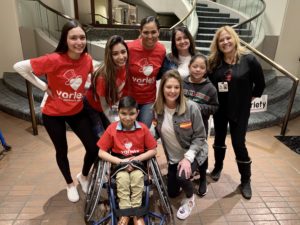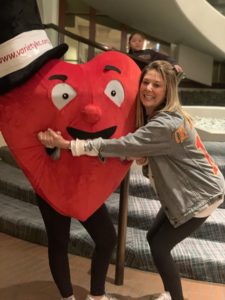 The key to any media campaign is timeliness and topicality and our nominee for the Media Award offers both!
Days before the Super Bowl, Texas native Randi Mahomes, mother of Chief's quarterback Patrick Mahomes, surprised us with a Facebook post requesting her upcoming birthday gifts be gifted to Variety KC. She set a goal of $250.
Reposting the donation request on the Variety KC page, we quickly saw donations grow to $1,500. Fox 4's Kathy Quinn jumped in and interviewed Randi…donations hit $3,000, $5,000, $7,000…and more!
 As excitement for the Super Bowl grew, so did the donations and media attention.
 The night before the Chief's Celebration parade, Randi Mahomes met with Deborah Wiebrecht from Variety KC and Kathy Quinn of Fox 4 news. During the biggest time of her son's career, Randi wanted to meet the kids she was helping, spend time with them and give them their requested gifts. As Randi said, "she could have selected any charity, including her son's foundation, but Variety touches her heart."
The story was so touching, Fox 4 didn't want it to get lost in all the Chiefs related hoopla – and held the story to air the next Thursday night, 10 pm news, during sweeps week. A time when viewership would be at its absolute highest.
 The promotion ran on social media, Fox 4 and KSHB 41 news over a period of three weeks. The feedback was tremendous, Randi said it was the best birthday of her life. Her donation, along with a generous donation from The 15 and The Mahomies Foundation, provided inclusive gifts of mobility and communication for so many area kids, including adaptive equipment for the Variety KC inclusive playground at Hospital Hill.
It was timely, topical, and unexpectedly successful thanks to Randi's generous gift request and Kathy Quinn from Fox 4 News and KSHB 41, who recognized the potential of Chiefs Fever to boost donations for area kids with special needs. This campaign helped launch our "Donate Your Birthday to Variety KC Kids" campaign inspired by KC's MVP Mom- Randi Mahomes.
 ROI from the campaign – this is OUTSIDE of the value of the actual television stories!
From Fox 4 News Kansas City:
Randi Mahomes sweeps piece: 31,427 pageviews from 30,038 unique viewers. Google Analytics shows a whopping 4 minutes 50 seconds spent on page, which means most everyone watched the video all the way though. Here's the URL: https://fox4kc.com/news/in-a-year-full-of-blessings-and-surprises-randi-mahomes-reveals-her-best-one-yet/
This next one is just about incredible. On your piece from January 17, it drove 153,570 pageviews from 151,824 unique viewers. Here's the URL: https://fox4kc.com/news/patrick-mahomes-mom-randi-shares-stories-of-raising-the-mvp-and-his-siblings/
Finally, your piece from January 12 drove 75,176 pageviews from 73,514 unique viewers. Here's that URL: https://fox4kc.com/news/fox4-talks-one-on-one-with-patrick-mahomes-mother-ahead-of-playoff-game/
TV KSHB 41 on January 16th drove 59,016 Pageviews and  17,232 unique views
https://www.youtube.com/watch?v=XFTYVcbAxdY
Additional TV Coverage:
Air TV
https://www.air.tv/watch?v=IkL0_rqJSPCl0WdzNfTQ9g
KSN TV
https://www.ksn.com/news/local/in-a-year-full-of-blessings-and-surprises-randi-mahomes-reveals-her-best-one-yet/?utm_medium=social&utm_source=facebook_KSN_TV
Variety KC Social Engagement, all platforms:
Reached: 82,455
Engaged: 12,000