John has fallen in love with bask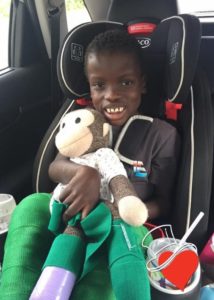 etball, having spent the last season with Matt Bollig and Midwest Adaptive Sports. What he needs is an adaptive wheelchair for to continue his development; with basketball and other sports as well. John's confidence, fitness, and relationships blossomed as part of this program which is why the family is very excited to encourage him in this way. John was adopted from Uganda, so in addition to "fitting in" as a wheelchair user, he has the added complexity of bridging cultural differences.
"John was adopted from Uganda at the age of seven after the death of his mother during child birth, and his father abandoning him. He spent those years in a home for babies in a poor region of the country, with no individualized care or medical attention. His club feet were never repaired, which relegated him to bear crawling to get around. This eventually led to very serious legions on the outside of his feet which complicated his case. His spina bifida causes bowel and bladder issues for him, and all of this caused the baby home workers to keep him in the bathroom for very long periods of time. Despite this start to his life, John is full of joy, energy, curiosity, and passion. He has flourished in our home, and basketball is now a big part of that for him. This equipment isn't just about John playing basketball, it's about allowing him to continue to develop in ways not possible without it!"
Variety KC responds: John received a sports wheelchair from Variety in June of 2019! We are excited to see how this equipment will help you grow! Send us photos of you in action John!  Help other kids like John in reaching further than they thought possible. Give today at VarietyKC.org. Thank you!