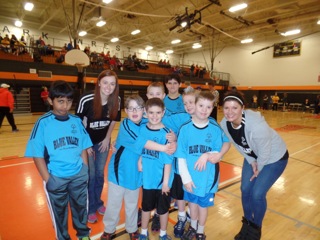 Through our work with local groups, we are able to grant money to those groups that give our young ones opportunities to live and grow. The Blue Valley Streaks Special Olympics is one of these groups that we happily donated to and received so much gratitude from in response:
The Blue Valley Blue Streaks Special Olympics athletes have enjoyed the uniforms and new basketballs that were purchased from the grant money provided by Variety Children's Charity of Greater Kansas City. It is through your most generous donation that our athletes have had the opportunities to participate in sports activities that would not have been available to them. Special Olympics may be the only place where people with intellectual disabilities have the chance to become part of their communities and develop belief in themselves. The athletes love wearing their new uniforms to our practices as well as the competitions.
Our Special Olympics programs have opened many doors for our athletes to achieve empowerment and acceptance. Through sports, our athletes are seeing themselves for their abilities, not disabilities. Their world is opened with acceptance and understanding. They become more confident by their accomplishments. They are also making new friends.
Of course this could not be done without the generous support of organizations like Variety Children's Charity of Greater Kansas City.
Thank you for helping our athletes shine and showcase their marvelous skills.